By Purnima Pilapitiya
Freddy's sole female voice Shannon Misso is ready to speak up in more than one way
"I don't even think I'm funny," was Shannon Misso's initial reaction when Feroze Kamardeen approached her about joining his growing comedy franchise "Freddy". But the vivacious, self-deprecating actress's knack for being blunt yet endearing (all of which she will laugh off and deny vehemently) backed by a spark for risk-taking and passion for gender equality and social justice made her the ideal candidate to be Freddy's first female performer.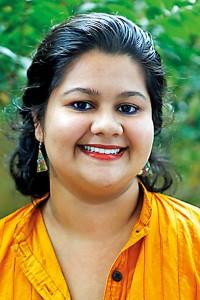 Making her debut this October in "Freddy: A New Hope" Shannon will provide a female voice and perspective to Colombo's popularly growing mainstream comedy platform, tackling socio-political issues close to her own heart and maybe even giving the other performers and the writer himself a piece of her mind.
For a seasoned actress who has been in the drama scene since her days at her alma mater Holy Family Convent, this will mark Shannon's big plunge into comedy. She began her relationship with the stage at a young age immersed in Shakespeare, her first role in Richard III being nominated for best actress at the All Island Shakespeare Drama Competition (but it was good that I didn't win, she giggles). She did go on to bag the title at the age of 17 for her role in Measure for Measure and continued to act out of school with theatre groups such as the Workshop Players and StageLight&Magic. After "Othello" in 2010, she took a break and the recent StageLight&Magic production "The Pillowman" marked her return to theatre, this time as director.
Part of the reason Feroze approached Shannon about performing stand-up came after seeing her blog post about the effect her school life had on her adolescence- a piece she shared online after seeing her students go through similar experiences. "I am the kind of person who will give it back to a catcaller." Maybe it's also Shannon's unapologetic mouth and mind that made her a good fit for Freddy.
"Some of the things I say are pretty nasty," she warns, laughing, but can't see why she can't be as colourful in her language as some of Freddy's performers who are accepted for it. If female comediennes are still struggling to make it as big as their male counterparts, Shannon will bring not only the female voice to Freddy but specifically, the voice of the Sri Lankan woman. For Shannon, the chance to get on the familiar Lionel Wendt stage in a very unfamiliar role gives an under-represented group a chance to speak up in more than one way.
At the heart of her performance, the teacher and mother of two want to show her own kids an important message. "I need them to see that I love being a mother but that my identity is more than that. I want them to see some of the things Ammi can do."
Shannon is also looking forward to the criticism that may come her way after October 23.