By Purnima Pilapitiya
New faces in the upcoming "Freddy 3- A New Hope!" Nisal Katipearachchi and Yasas Ratnayake share their excitement at being part of one of Sri Lanka's most popular comedy series
When Colombo's favourite new comedy platform 'Freddy' opened its doors to fresh talent, the morning of the audition found more than 25 nervous performers hoping for a chance to score the much coveted laughs. The first to make his way to the Lionel Wendt with his audition monologue was an ever-punctual Nisal Katipearachchi. In his slightly (he admits) nervous hand, was the first -time performer's story about growing up as the secondary 'Katte', next to his more theatrical older brother a.k.a. "Loku Katte". Joining him in the pool of anxious wannabe comedians was Yasas Ratnayake armed with the day's most explicit monologue which discussed the bedroom politics of…politicians.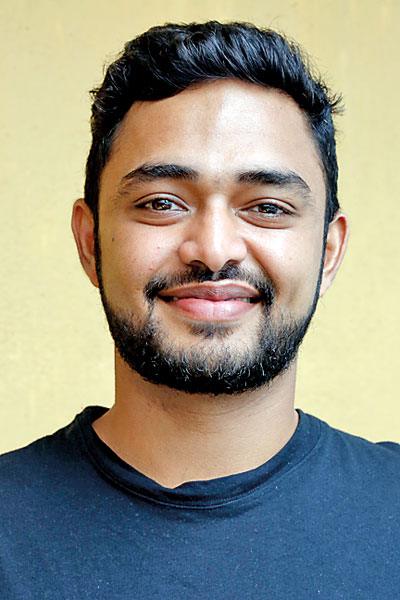 Catching the eye and the attention of the auditorium, Nisal and Yasas are now getting ready to take the stage as two of Freddy's newest perfomers in the latest Stage Light & Magic show to hit the boards next month: "Freddy 3- A New Hope!"
The two, who are friends and part of the drama scene, hope to bring their own individual flavour to the stage. For Nisal, this will also mark his first appearance on stage after being a familiar figure in the shadows, backstage, scuttling around, pushing props and doing the other underplayed, hard work of the crew. In contrast, Yasas is a familiar face to audiences having recently ended a successful production with StageLight&Magic in 'The Pillowman'.
Yasas has been making ripples in the drama scene since his acting days at his alma mater Royal College. His credits include 'Reality Show', 'Hamlet at Elsie's Bar' in addition to his last production 'The Pillowman'.
Despite his experience, comedy is one genre that Yasas has never been able to fully immerse himself in, always finding himself in darker, serious roles and also because of the lack of a platform. When he walked out of the Lionel Wendt after watching 'Freddy Strikes Back' last year, "I knew I wanted to try something like this," he says.
If stepping out of his comfort zone wasn't enough, Yasas went in for his audition with the day's most explicit monologue. Combining his interest in politics, wit and satire, Yasas stood out as a prospect for Freddy.
"I wanted to be a part of it because it is a good platform for comedy in Sri Lanka," he says, seeing it as an enterprise that will mould Engish comedy in Sri Lanka. Though he is still finding his feet, Yasas hopes to bring his own style to the routine, taking inspiration from thinkers and artists like George Carlin who used humour to communicate the harsher philosophies of life. But for Yasas, making people happy is the penultimate goal, and maybe to "give them something to talk about over dinner".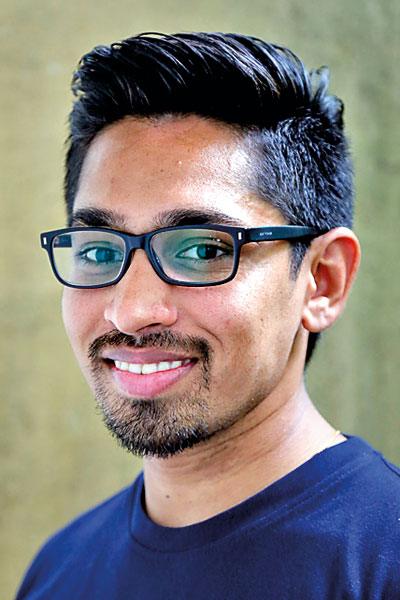 "People said I looked confident," says Nisal with a playful seriousness that only adds to his ironic sense of humour. Backed by an easygoing demeanour, it's hard to believe that Freddy's new addition has never acted onstage. But stage fright was real for Nisal who followed his thespian brother into the drama scene while he was studying at D.S. Senanayake College. The sportier of the Katipearachchi brothers, Nisal never saw himself taking up his brother's artistic mantle and preferred working behind the scenes of productions instead.
When StageLight&Magic produced "R&J- the tale of Romeo and Juliet'" in 2004, a post O/L Nisal was also part of the crew. "I always thought I would embarrass myself," he says, as the reason why he never took the stage before. But the undeniably funny guy could always be found cracking a joke and doing impressions and impersonations from classroom to workplace. "I knew I had that," he admits, but never took it too seriously. A marine engineer by profession, Nisal literally stayed away from theatre for about five years before coming aboard the Freddy crew.
With shows like Pusswedilla, Nisal's interest in theatre was sparked. "It was something normal that dealt with the everyday" unlike the more serious theatre he was exposed to while in school. When auditions for Freddy rolled out, the thought of trying out never even crossed his mind, until a friend commented about it on a Whatsapp group. A risk taker with a 'go with the flow' attitude, Nisal was scribbling down a script before thinking through the audition. A month and a few rehearsals in, Nisal still doesn't take comedy as seriously as he should, but maybe that's why it worked for him.
"I just want it to be me," he explains simply. Not one to watch comedy shows or stand up on Youtube, he walked into the audition unrehearsed and ready to talk about growing up Katte. His unstrategic strategy paid off, and had the audience laughing, especially those who knew him and his brother.
These days, he's concentrating on pace, grammar and holding the mic, he laughs. As to getting 'into character', no one has yet to direct him on how to play the part. "Just be the jolly, good fellow that you are" is the only direction he's been given so far. As an outsider coming into the comedy scene with a backstage view of Freddy's rise, Nisal compares Freddy to a baila session at a fancy wedding. "At the end of the day we are all Sri Lankan," he adds.