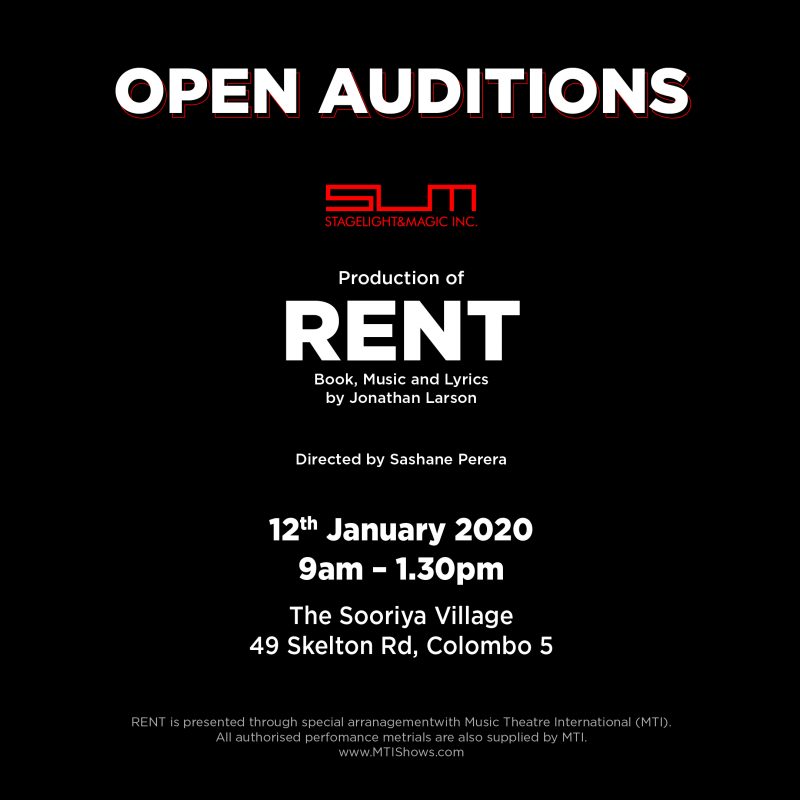 StageLight&Magic Inc are pleased to announce that we will be staging "Rent", presented by special arrangement with Music Theatre International (MTI). The production will be directed by Sashane Perera, along with Music Direction by Johann Peiris and choreography by Mihara Jayalath and Ayushka Nugaliyadda.
"Rent" is a rock musical, with music, lyrics and book by the late Jonathan Larson. Winner of the Tony Award for Best Musical in 1996 and the Pulitzer Prize for Drama, "Rent" marked a watershed in musical theatre and has since become a pop cultural phenomenon, with a story that has resonated with audiences of all ages. Set in the East Village of New York City, "Rent" is about finding your voice, falling in love, and living for today.
Audition Guidelines
Brief Synopsis
(sources: MTI and StageAgent)
Loosely based on Puccini's "La Boheme", "Rent" follows a year in the life of a group of impoverished young artists and musicians struggling to survive and create in New York's Lower East Side, under the shadow of HIV/AIDS. The physical and emotional complications of the disease pervade the lives of Roger, Mimi, Tom and Angel. Maureen deals with her chronic infidelity through performance art, and her partner, Joanne, wonders if their relationship is worth the trouble. Benny has sold out his Bohemian ideals in exchange for a hefty income and is on the outs with his former friends. Mark, an aspiring filmmaker, feels like an outsider to life in general and struggles to find his place in the world. The group's dreams, losses and love stories weave through the musical's narration to paint a stunningly raw and emotional portrait of the gritty bohemian world of New York City in the late 1980s.
CHARACTERS
(sources: MTI and StageAgent)
Roger Davis
A struggling musician and former addict. He is reminiscent of Kurt Cobain. Roommates with Mark in the loft and battles with being HIV-positive.
Gender: Male
Age: 20 to 25
Recommended audition song: "One Song Glory"
Mark Cohen
Filmmaker and video artist. Knee deep in his own soul-searching, Mark is the typical young artist. He and Roger are roommates in the loft. A bit of a nerd.
Gender: Male
Age: 20 to 30
Recommended audition song: "Tango Maureen"
Tom Collins
A computer genius and liberal professor. He is a nurturer with a smooth and relaxed disposition. Used to be a roommate in the loft and is HIV-positive.
Gender: Male
Age: 25 to 35
Recommended audition song: "I Will Cover You (Reprise)"
Benjamin Coffin III
The landlord of Mark and Roger's apartment building. A former roommate in the loft, Benny traded in his personal morals for power and wealth.
Gender: Male
Age: 25 to 35
Recommended audition song: "You'll See"
Joanne Jefferson
A public interest lawyer and headstrong lesbian. She is smart and purposeful in all her decisions. Carries on a tumultuous relationship with Maureen.
Gender: Female
Age: 25 to 40
Recommended audition song: "Take Me or Leave Me"
Angel Dumott Schunard
The eccentric HIV-positive street drummer. A drag queen with an incredible gift of dance and a magnetic personality. He becomes Tom's lover.
Gender: Male
Age: 20 to 30
Recommended audition song: "Today 4 You"
Mimi Marquez
An HIV-positive stripper with drug addictions. Slender and sickly, she conceals it all at her job in the local strip club. She lives in the same building as the loft.
Gender: Female
Age: 18 to 21
Recommended audition song: "Out Tonight"
Maureen Johnson
An unpredictably zany performance artist. Maureen oozes sexuality and used to live in the loft. She has recently dumped Mark for Joanne.
Gender: Female
Age: 20 to 25
Recommended audition song: "Take Me or Leave Me"
Ensemble
Homeless Men & Women; Junkies, Parents (Mrs. Cohen, Mr. & Mrs. Jefferson); Support Group (Steve, Gordon). The ensemble is very important, having to play many different roles with solos
and dancing in high-energy numbers. The ability to sing complicated harmonies and learn big choreographies are a must. All types of personalities and voices are welcome for these roles.
Auditions will be held on Sunday, 12 January 2020, from 9 a.m. – 1.30 p.m., at the Sooriya Village.
All roles are open. Please prepare:

A song from the musical, based on the role you wish to audition for (recommended songs have been provided under each character in the above list);
A monologue of your choice.

There will be a dance component to the audition, which will determine selection for specific roles and the ensemble.
All participants are requested to be at the Sooriya Village at 9 a.m.
You have the option of bringing your own accompaniment.
Your audition may be recorded, for reviewing by the audition panel only.
Please note that the casting process will continue until 15 February 2020 the latest, with all participants being evaluated based on their strengths and attributes in relation to the role.
It is possible that alternates may be cast for selected roles.
Final selections will be conveyed to selected individuals by the Director.
While we require that you prepare a song from the musical (please refer the guidelines for recommended songs), if you wish, you can also prepare a second song of your choice that will show off your range sufficiently (this is optional).
The dance segment of the audition will be held twice, during which the choreography will be taught for the audition – one beginning at 9am and the second beginning at 11.30am. Please ensure you're present for either one – this is mandatory.